Training and Support Services for your Workplace
The Why
Many trade industries face challenges in recruiting and retaining tradeswomen. With barriers like deep rooted cultures and behaviours, lack of female representation, and stigmas surrounding male-dominated industries – it can be difficult to maintain mentally healthy, inclusive and equitable workplace environments.
Tradeswomen Australia Group are leaders in supporting organisations achieve their vision of creating diverse and inclusive workplace cultures, having significant knowledge and experience in working with women in trades, research, as well as proven results in training.
We are committed to helping you not only attract and retain talented, passionate and dedicated tradeswomen but also create healthy and happy working environments for all your employees through holistic training, mentoring and support strategies.
What's It All About?
In order to remove barriers in recruiting and retaining women in trades industries, and creating the optimal workplace culture and environment for all workers, we have developed the following trainings and support services:
Creating Diverse and Inclusive Workplace Environments
This course on diversity, inclusion and equity will enable you and your team to create a workplace environment that embraces differences, challenges unconscious biases, and develops healthy respect between teams. Topics include:
Diversity and inclusion awareness
Impacts of not embracing diversity
How to overcome these challenges through inclusion and equity strategies
Participants are encouraged to search for their unconscious biases, become a bystander hero, and build an inclusive, happy culture within the workplace.
Bystander Action
This course will help your team become empowered to take action when faced with harmful behaviours at work. Participants are introduced to the concept of bystander action, identifying harmful behaviours in the workplace (racism, sexism, bullying, microaggressions and others), and why onlookers do not intervene. Teams are equipped with the tools to safely intervene in workplace situations, become active bystanders, and encouraged to utilise company policies and procedures to act if they witness bad behaviour within the workplace.
Unconscious Bias in Recruitment
Unconscious bias can severely impact your business' recruitment of the best and brightest individuals, significantly lowering diverse creativity, talents, productivity and revenue. Participants are introduced to the concept of unconscious bias, types of bias that affect the recruitment process (such as gender, age, culture), encouraged to pinpoint, challenge and outsmart their unconscious biases and create equity within the organisation.
Bespoke Training
If your organisation wants to create greater awareness and improvements, or challenge particular issues, within the organisation, we are more than happy to build the perfect training package for you. We're here to provide personalised support, tailored training outlines and no-obligation quotation.
Our training can be delivered online through virtual sessions or face-to-face by our experienced and professional training staff. We can host training packages through our Learning Management System or work with you to integrate it into your own training system.
Recruitment Review
Is your organisation having issues with achieving diversity targets in your recruitment? Are you finding it hard to reach the right applicants? Our team are happy to work with you to review your recruitment processes, practices, marketing and advertisements to reach a wider tradeswomen audience and assist in making your campaign more impactful.
Workplace Review
Has your organisation created a holistic safe system of work, and effectively communicated to all staff? We can conduct a review for you, covering people, structure and process. Items for review include policies, procedures, codes of conduct, organisational and reporting strategies, infrastructure, consultation and work plans. Once the review is completed, you will be provided with a detailed report, score, checklist and recommendations on each area for action.
Inclusive Worksite Signage
Looking to add more inclusive signage to your workplace? We're here to help you order new sites for site. Class one prismatic reflective yellow, compliance to (AS/NZ 1906.1:2017) Corflute or metal options. Sizing 600×450, 600×600 custom sizing and branding available.
Contact us to discuss further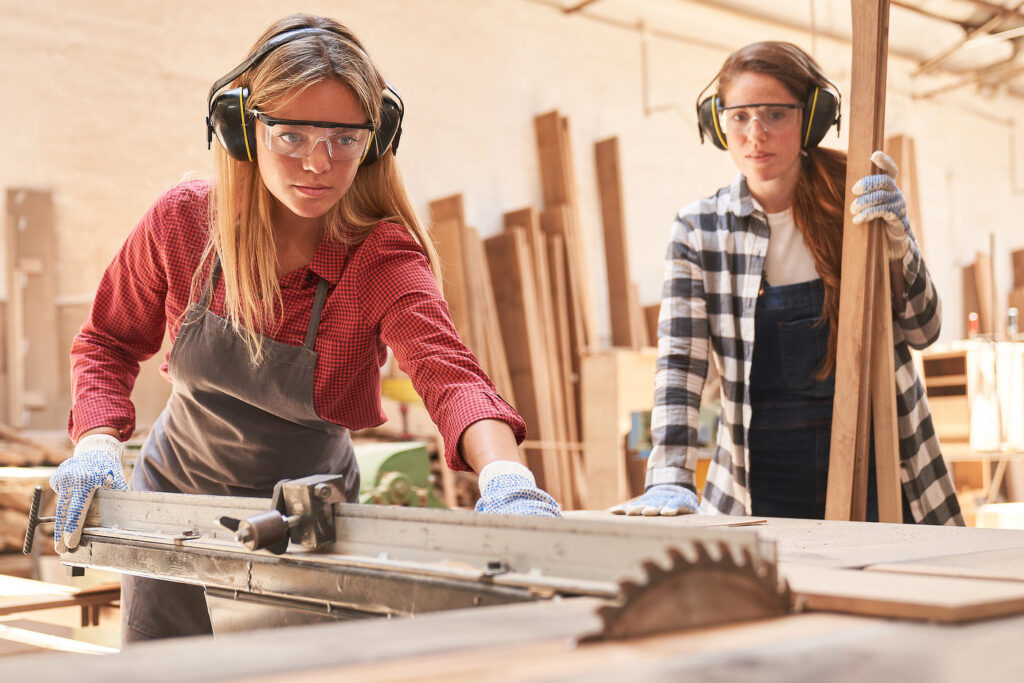 "The series of Unconscious Bias training organised and facilitated by Trades Women Australia had a great impact on the diversity and culture of our division. The feedback was immediate and our employees appreciated dynamic panel of experts sharing their powerful stories of bias and inequity. It was both thought provoking and great starting point to challenge our own internal bias"
"We are proud to be working closely with the team at Tradeswomen Australia (TWA). Along with their broad knowledge and understanding of the trade industry and of our business, the partnership has enabled us to collaborate in the aim to broaden mindsets and encourage and aspire more women to consider trades as a viable career path."