SP&R Airconditioning's general manager, Pam, and first year apprentice, Tahlia, have a lot in common. Facing many hurdles in starting their trade apprenticeship, both have approached HVAC with gusto, and have employed their talents in problem-solving, can-do  approach and hands on skills to become successful. Whilst Tahlia is just starting out in her HVAC career, Pam is now aGeneral Manager as well as a qualified air conditioning and refrigeration mechanic. Tahlia has had the good fortune to be supported by Pam, the SP&R team, as well as Greg Latham and the team from Head Start.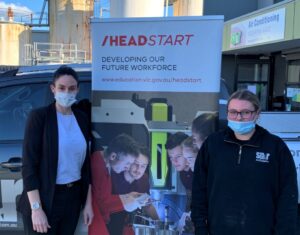 SP&R Airconditioning's Pam (left) and Tahlia (right)
Leaving School for a Trade Career
"I didn't want to be pigeon-holed into the usual female roles offered at school" says Pam, who was faced with deciding between nursing and administration as preferred career paths for women back in 2006/2007. Noting her talent for being hands-on, Pam's father (a tradesperson himself) asked her to consider a trade path instead. "I looked into it and narrowed it down to electrical and plumbing, then completed a six-month electrotechnology preapprenticeship". Getting a foot in the door to an electrical apprenticeship seemed insurmountable after three months of applying and getting knockbacks "I think it was difficult because it was really rare for women to work in this field, so the employers were pretty apprehensive in taking me on". Then one of her mates recommended getting into HVAC. "I applied to a few places, and within two weeks I was employed" smiles Pam, noting that within hours of commencing her apprenticeship, she was put onto air conditioning and subsequently fell in love with the trade.
"I made the decision to leave school, as I wasn't enjoying it (and went to) Head Start to find a job" comments Tahlia. Head Start's Greg Latham supported Tahlia in finding the right trade position, after her father observed her knowledge and hands on skills would be perfect. "Greg approached me about trade positions from companies who want women" she says, "I was sceptical". Tahlia was steered into a prospective electrical apprenticeship, only to find that they wouldn't take her on due to her age. "Then there was an opportunity to work with SP&R Air Con and Pam…after a two-week trial they took me on".
Pam's and Tahlia's experience in receiving the right support at school differs greatly. "For me school didn't assist" says Pam "I wouldn't conform with what they wanted me to do, so I found my own way and stumbled across an opportunity". Pam reflects on her experience and how Head Start's intervention would have been beneficial "It would have been really helpful if there was a Head Start when I was at school…I really couldn't see the benefits of classes and wanted to start working. Tahlia had a lot of guidance". Tahlia nods her head in agreement "I think things have come a long way at school. Head Start is designed to help us to get into trades as soon as possible". Head Start has helped two of her friends to become tradeswomen in the carpentry and electrical fields. "They're really supporting and guiding women into trade positions".
Working in HVAC
Pam and Tahlia work in the HVAC&R (heating, ventilation, air conditioning and refrigeration) industry within the commercial and industrial fields, which utilise a range of technology to control temperature, humidity and air within enclosed spaces. To operate as a tradesperson in HVAC&R, Pam confirmed that restricted electrical, plumbing and refrigeration licenses are held by their staff, as they deal with all three aspects within the commercial environment. "What we do is well beyond your split systems and evaporative cooling systems" says Pam "Commercial and industrial…services…includes all your boilers, chillers that heat and cool, your fans, motors and electrics". "Some of these systems are even bigger than some buildings" adds Pam.
A typical day for Tahlia starts early. "I leave between 5:30 to 6:00 am in the morning and go to site" she says "We'll have a meeting to start off the day. It depends whether the team is familiar with the site or not…if they are, they'll familiarise me with the site, or we'll familiarise ourselves with the site as a team. (Once this is completed, we'll) go through what will be done during the day". At the start of her 1st year with SP&R, Tahlia confirmed that most of her work included observing and helping the technicians and learning on the job. "Once you know the basics, you perform the basics yourself. (That includes) checking ducting, valves, maintenance work and a few other things". "There's also a lot of skills we pick up and work with on a daily basis, such as electrical and plumbing aspects, air velocity and other skills" adds Pam.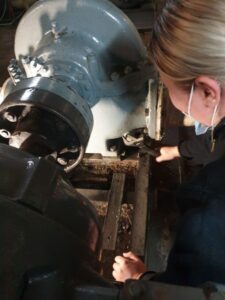 Tahlia working on site
Once Pam's apprenticeship was completed, she operated as a fully qualified air conditioning mechanic. Her typical duties included "filter and coil cleaning, performing sanitising and safety aspects, inspecting and repairing works, attending breakdowns, welding and many other duties" she says. Pam enjoyed the variety that HVAC&R work provided "You're not doing the same thing eery day – every site, client, system is different. It's fast paced, keeps you on your toes, a really enjoyable industry". "But a forgotten industry" she thoughtfully adds.
Whilst tradeswomen representation within HVAC is still quite low (standing at 2%), both Pam and Tahlia's experience working within the male dominated industry positive. "I haven't experienced any discrimination so far" says Tahlia, "instead, I've experienced some really positive things. The guys are shocked and surprised that I've stepped into a trade role…they're really good to work with and are giving me positive feedback all the time". "The only thing that was confronting for me was tradeschool…you roll up to school with 250 guys" Pam laughs "One woman and 250 guys! They're like what the, what are you doing here?". "I've never had an issue on the site or in the office…I might be lucky" reflects Pam, "I never felt uncomfortable, left out or bullied". She stresses the importance of putting your head down, staying focused and getting the job done, remaining unbothered by anything else around her.
Tahlia reflects on the kinds of qualities necessary to the job. "Commitment is the main thing that a company wants" she states. "For example, when I told Brad (one of Tahlia's supervisors) the time I get up to travel to work, he was shocked – "That's commitment!" he exclaimed" she laughs. Possessing a can do approach is also incredibly valued within the industry too. "The boys on site will hand over things and say "do your best"…I really value their trust" Tahlia says.
Leadership and Mentoring
Pam's commitment and passion to HVAC was reflected in giving her all and being the best she could be at work on a daily basis, but she knew she couldn't be on the tools forever. "There would be a time in my life where I would move into something else. I tend to go with the flow, and made sure I learnt skills beyond my role along the way, such as quoting". Her flexibility, dedication and hard work paid off. "There was an opportunity to work as a service manager at another firm, then I came over to SP&R as a general manager". Pam's natural qualities as a leader and her confidence made her the perfect person for the role. "You can decide to stay on the tools" Pam states "but there's some great opportunities out there to become a supervisor, manager or a project manager if you want to" she encourages.
As a leader, Pam understands the important role that mentoring plays for new apprentices like Tahlia. Her approach is simple and straightforward, "When Tahlia came on board, the thing I asked from her was commitment" she says. "She doesn't have her drivers license yet, so to get to site she has to get on public transport. This teaches apprentices commitment". For Pam, it was important to remember what it was like for her starting out in her apprenticeship in providing the right guidance for Tahlia at the right time. "(Help them) find the goalposts, then allow them to find their own way" she states, "when she needs guidance, I'll give it to her, but I don't hold her hand through (the process", allowing Tahlia the kind of independence she needs. Tahlia's gratitude for Pam's approach is apparent "(Pam helped me feel) confident to come in and ask questions" she says, "coming into a trade that you don't know much about…it was great knowing that I could look up to someone like Pam who has the same background as me, and enjoys the same things as me". In a very short amount of time, Tahlia and Pam cemented a strong mentor and mentee bond.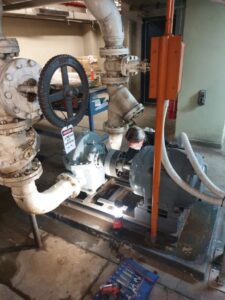 Tahlia working on site
"Just Give it a Go!"
Tahlia's message to women considering a trade career is simple – "Just give it a go!" she says, "and be yourself. It's really important, and people value you for being authentic". Pam adds to Tahlia's message: "if you're not someone who's interested in the norm, if school isn't your thing, talk to Head Start, go down to your local TAFE and research trades. You'll probably find that some of your existing skills fit a certain trade, but also make sure you get into something you really enjoy". Pam goes on further to encourage women to look into getting into HVAC, "you're not dealing with any heavy lifting, you get to really use your mind, problem solve, to work in a trade that keeps you on your toes". She adds the importance of showing commitment to the trade you love: "think about giving up a week for unpaid work, experience the trade – if you sit back and wait for the opportunity, it won't happen".
Tahlia and many other school-aged women and men have benefited from the guidance and support that Head Start provides them. "Providing a scaffolded and supported mentoring program increases the chances of trainees and apprentices to successfully meet the challenges of work" states one Head Start representative. "The students who participate in the Head Start program have an understanding and commitment to building a career in their interest area". Helping women break into male-dominated trades is also another area Head Start are dedicated to, along with working with her school, employer, and family throughout the apprenticeship journey. "Young women who want to engage in "non-traditional trades" need support and should be acknowledged as groundbreakers. Tahlia is another young person who is working towards achieving her goals". Whilst the last two years have been challenging to trade industries, the skills shortage remains an issue, "Some sectors have weathered the challenges over the last 18 months better than others. Engaging young people in the current climate is something that we all have a responsibility to do" states Head Start.
We encourage you to read more about Head Start's incredible work to support young Victorians to make inroads in establishing their own career pathways. Like Pam, if you would like to contribute your valuable knowledge and guidance to women entering trades, you can consider joining TWA's Mentoring Program.
We thank Tahlia and Pam for sharing their journey, experiences, and advice.
We also thank Greg Latham and the team at Head Start for their continued support and guidance provided to Tahlia.