Lifting the Bonnet on Workplace Diversity and Mental Health
"It is through grass roots programs like the workplace diversity project that we can foster better cultures in all workplaces and tackle the emerging challenge of mental injury together. These are innovative programs that the Victorian Government is so proud to support." Ms Bronwyn Halfpenny MP, Parliamentary Secretary for Workplace Safety.
The Tradeswomen Australia Workplace Diversity Project was successfully launched at Kangan Institute Docklands by Ms Bronwyn Halfpenny MP, Parliamentary Secretary for Workplace Safety.
More than 160 workplaces in Victoria's Automotive Industry, representing 3000 employees, have already been confirmed to participate in an industry-first program designed to improve the mental health and wellbeing of small and medium automotive businesses through diversity and inclusion.
The Workplace Diversity Project aims to support businesses to create environments that embrace diversity and inclusion through their recruitment, employee support, and workplace practices.
Organisations supporting the Workplace Diversity Project include key major industry bodies WPC Group, Repco Authorised Services, G Force Employment Solutions, MEGT, Advantage Point, Kangan Institute, Murray Mallee Training Company, AMA Group, VACC, AAAA and Male Champions of Change.
Click HERE
for information on the Tradeswomen Australia Workplace Diversity Project.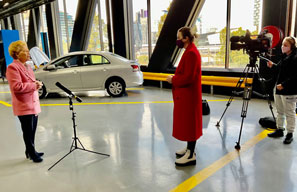 'Pilot program to drive more women into the auto sector' by Shane Wright. Shane is a senior economics correspondent for The Age and The Sydney Morning Herald.
Fiona McDonald, CEO, Tradeswomen Australia about the Workplace Diversity Project.