27 January 2022
Women's Growing Voices to Break Down Employment Barriers in the Trades
Employment of women in trades an election issue
The growing voices of women around Australia is providing a focus for all political parties in the Federal election to promote their policies and programs aimed at increasing employment opportunities for women in the Trades.
Jane Sydenham-Clarke, Chair of Tradeswomen Australia, said the organisation's research reports identify the barriers that limit women's participation as apprentices/trainees in the non-traditional trades.  This is especially true of the core trades of construction, automotive and electrical, where their representation has remained at less than 2% and has changed little over the last 25 years.
Ms Sydenham-Clarke said the three major barriers to increasing participation in the trades include:
Lack of information and engagement about the trades with career advisors and high school girls.
Poor workplace culture and social misconception make trades unattractive as a career path.
Lack of structural support systems for women working in male-dominated trade industries.
"The Federal election will provide an opportunity for all political parties to highlight initiatives and funding to increase the employment of women in the trades for the long-term economic COVID-19 recovery program.
"With Australia facing an immense skills and labour shortage, especially in mining and construction at a time when we are also in an infrastructure boom – it's time for all levels of government and business to embrace our whole richly diverse community – over half of which are girls and women – into trades.
"Our inspirational founder Fiona McDonald was inspired to create Tradeswomen Australia given her experience as an automotive mechanic where she encountered many challenges accessing and participating in the sector."
Tradeswomen Australia's innovative work with industry bodies, employers, training authorities and Government not only opens the workforce to women but also substantially contributes to increasing retention rates as women forge careers in trades.
"The flow-on economic benefits have been researched and documented by economists. A key outcome of these developments will be intergenerational attitudinal change. As work continues, perceptions will change and present barriers will diminish, then vanish.
Ms Sydenham-Clarke said women make up fifty per cent of the population and in many areas, there is an increasing recognition by the community of the significant role for gender equity and equal opportunity in all works of life.
Helping Women Find and Secure Their Next Role
School leavers and mature women wanting to gain information on careers in the trades and access the views and experiences of women working in the trades now, can join the Tradeswomen Australia Facebook at https://www.facebook.com/twaustralia/.
With over 65 trades registered on the National Skills Shortage list, there has never been a better time for women to start an apprenticeship or find a trades job which are well paid and secure!
"The average salary for a career in trades is $80,000."
Ms Sydenham-Clarke said podcasts, webinars, and a growing gallery of on demand videos provide women of all ages from students at school, women wanting to change to more lucrative and stable employment, with access to meet tradeswomen from across Australia.
Learn their stories, including their background, how they got started in trades, and what they are up to now.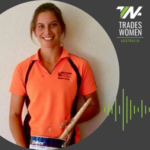 Alisha is a focused, hands-on painting pro, who was inspired to start her own business. Read about her trade, passions and advice below:
Why Alisha chose Painting and Decorating
Featured Image: Jane Sydenham-Clarke, Chair, Tradeswomen Australia.
Media Enquiries:
Ron Smith, Media Communications, Tradeswomen Australia
Mobile: 0417 329 201